RESTORED ANTIQUE LIGHT FIXTURES
What's in a Restoration?
 The first question many people ask when they walk into our showroom is "Where do you find all of these?"
 Well, usually, we don't. That is, we don't find the beautiful light fixtures they are currently admiring, unless we happen to get very lucky.
In most cases, what we do find is a scratched, dented, paint-slopped piece of metal sprouting frayed ancient wiring and maybe a missing socket or two. It may or may not have all its original, nicotine stained, paint-spattered glass shades. What we do find, looking beneath the soiled surfaces, are the elements of classic design, the excitement of period innovation, or the quality of intricate castings. What we see is what this sadly neglected piece of useful history once was and, with determination and effort, will be again.
Four Light Pan Project
<![if !vml]>
<![endif]>     <![if !vml]>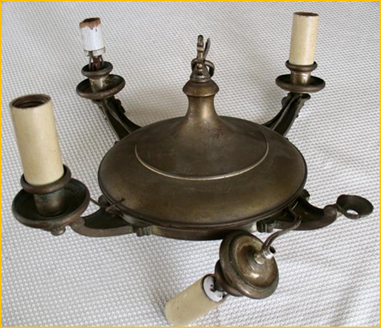 <![endif]>     <![if !vml]>
<![endif]>
At a flea market last autumn, Michael discovered this four light pan fixture, half concealed in a bucket beneath a table of rusty tools. His eye was drawn immediately to the attractive design, and a quick assessment (confirmed by a magnet test) revealed the body to be of solid brass. The ceiling canopy and a few decorative finials were missing, but this beauty was just crying out for new life. We purchased the fixture and brought it home. 
<![if !vml]>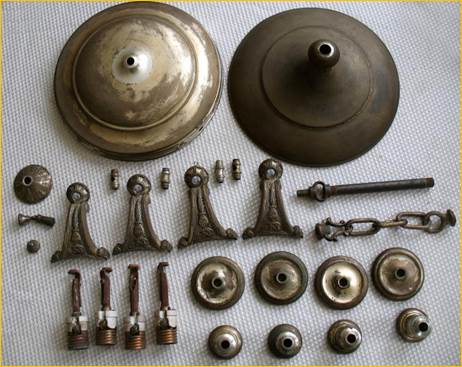 <![endif]>       <![if !vml]>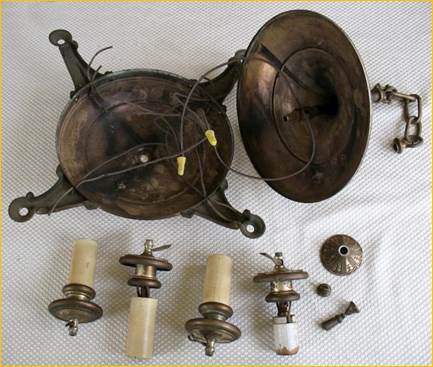 <![endif]>
Back at the workshop, Michael began, as with every project, by going over the fixture to see what was needed and then completely dismantling the piece. The original silver plated finish, yellowed with age, had never been touched but was badly scratched and had tarnished under the varnish so Michael determined that there was no choice but to remove the plating from the body. (Where possible, however, he chose to leave traces of the silver plating especially when it came to the cast components.) In restoring the fixture, no varnish is used on the bare brass and, in time, it will darken naturally, so a slightly moistened cloth will be all that is recommended for future cleaning. 
<![if !vml]>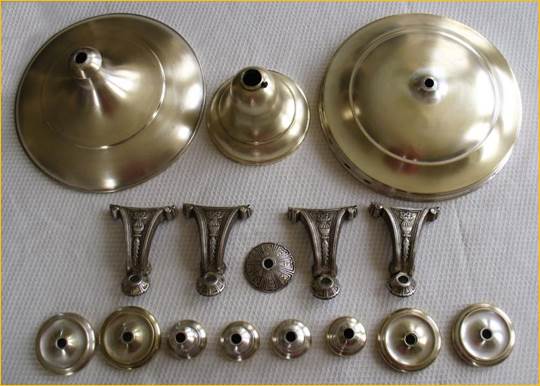 <![endif]>     <![if !vml]>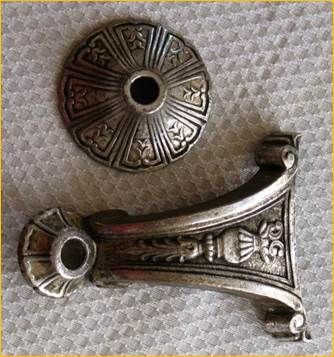 <![endif]>
The candle socket bases were very rusty so were given an acid bath, but the sockets themselves were in very good condition . needing nothing more than to be cleaned and the cardboard insulators replaced. In our ever accumulating parts collection was an old solid brass canopy which experience told Michael would be very close to what the original would have been. Only one tassel finial remained, and in this case solid brass reproduction finials closely matching the original were required as well as new candle covers, modified to match the originals in height.
<![if !vml]>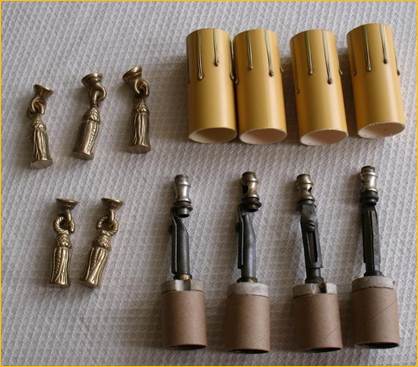 <![endif]>            <![if !vml]>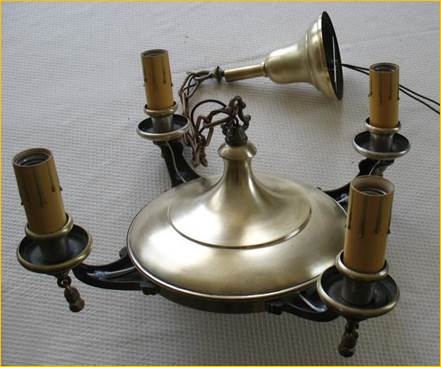 <![endif]>
Finally, as with all our fixtures, the piece was rewired using UL and CSA approved components. All wire to socket connections were tinned and all wiring bundles were soldered before the wire nuts were installed and the whole bundle was then wrapped in electrical tape. Any exposed wire is of period friendly rayon covered, again UL listed and CSA approved. (Your electrician should have no problem as the ceiling connection is thoroughly modern and installation ready).
<![if !vml]>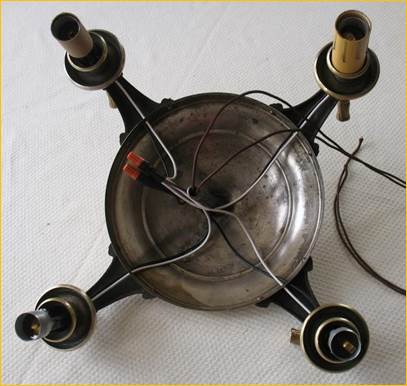 <![endif]>             <![if !vml]>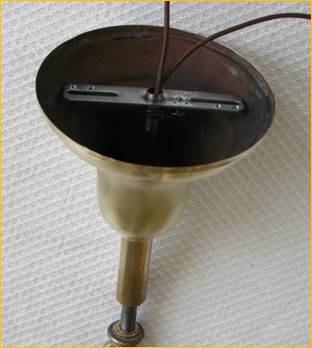 <![endif]>            
This lovely fixture is now ready to be photographed and added to the website before joining the other restored beauties in the showroom, waiting to add warm light in a perfect spot in a special home.
                       <![if !vml]>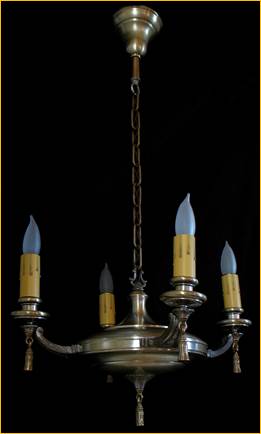 <![endif]>            <![if !vml]>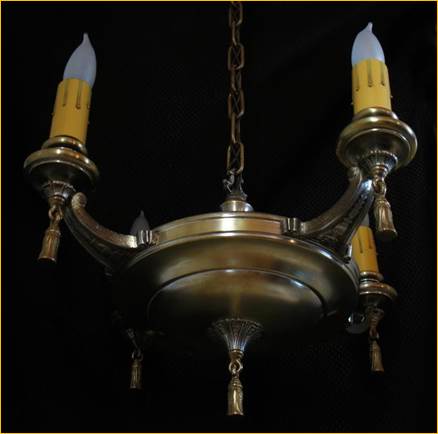 <![endif]> F 177   Sold!
FIVE LIGHT ART DECO PROJECT
<![if !vml]>
<![endif]>
This five candle art deco fixture which once would have graced a fine dining room  was found hanging in the kitchen of a Nova Scotia farmhouse, rejected (for obvious reasons) by the new owners. Layers of paint have been slopped on over the years, and at some point an ugly chain and "modern" wiring were added. Except for a missing finial, however, it is all here. 
<![if !vml]>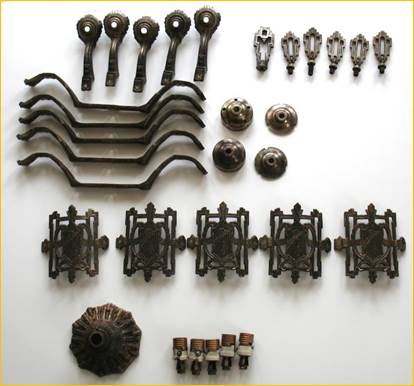 <![endif]>             <![if !vml]>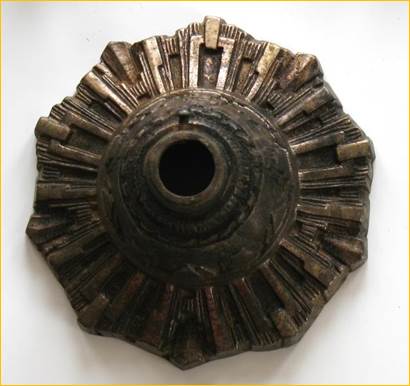 <![endif]> 
<![if !vml]>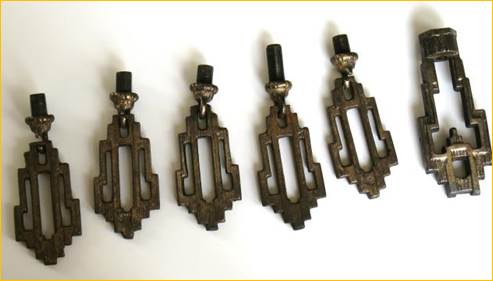 <![endif]>             <![if !vml]>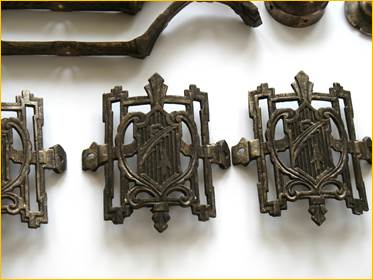 <![endif]>
At this stage, the fixture has been completely dismantled, paint removed and thoroughly cleaned. The cast iron is lovely as is but has a dark, sombre appearance and Michael has decided to apply a new finish to properly restore this piece to its former attributes.
<![if !vml]>
<![endif]>
The individual components have now been refinished, resulting in a warm golden glow typical of the era. The next step is to re-assemble the pieces.
<![if !vml]>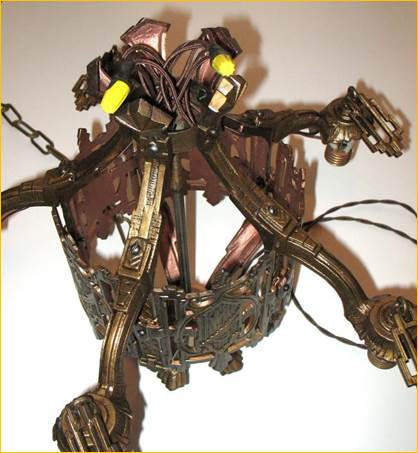 <![endif]>           <![if !vml]>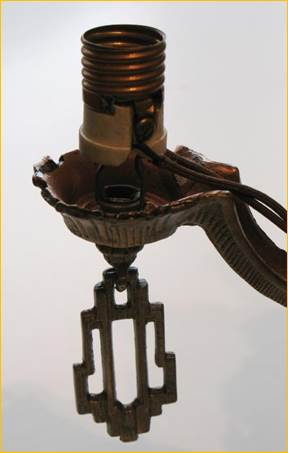 <![endif]>
  <![if !vml]>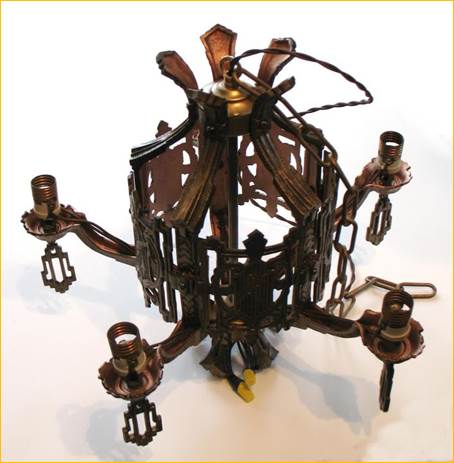 <![endif]>
At this stage, the fixture has been re-assembled and the modern wiring components installed.
<![if !vml]>
<![endif]>
Candle sleeves and flame bulbs are the last step before the fixture is photographed and added to the website.
<![if !vml]>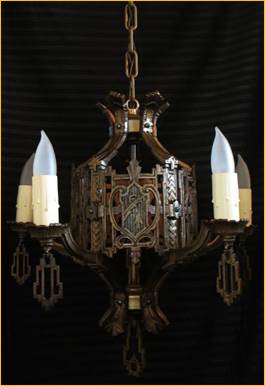 <![endif]>      <![if !vml]>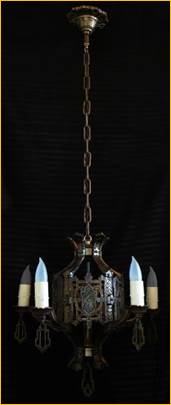 <![endif]>      <![if !vml]>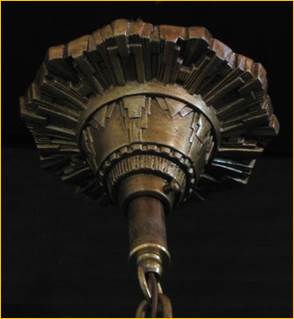 <![endif]> F 230
                                           Click on left photo, above, for purchase information
Questions? Email jane@harrishouseart.com
———————————————————————————————————————————————————————————
HOME       CEILING FIXTURES        WALL SCONCES        TABLE LAMPS        PORCH LIGHTS        ART LAMPS
WHAT'S NEW?        INDUSTRIAL ARTS IN SCALE        PAST FAVOURITES SOLD!        ORDERING INFORMATION
<![if !vml]>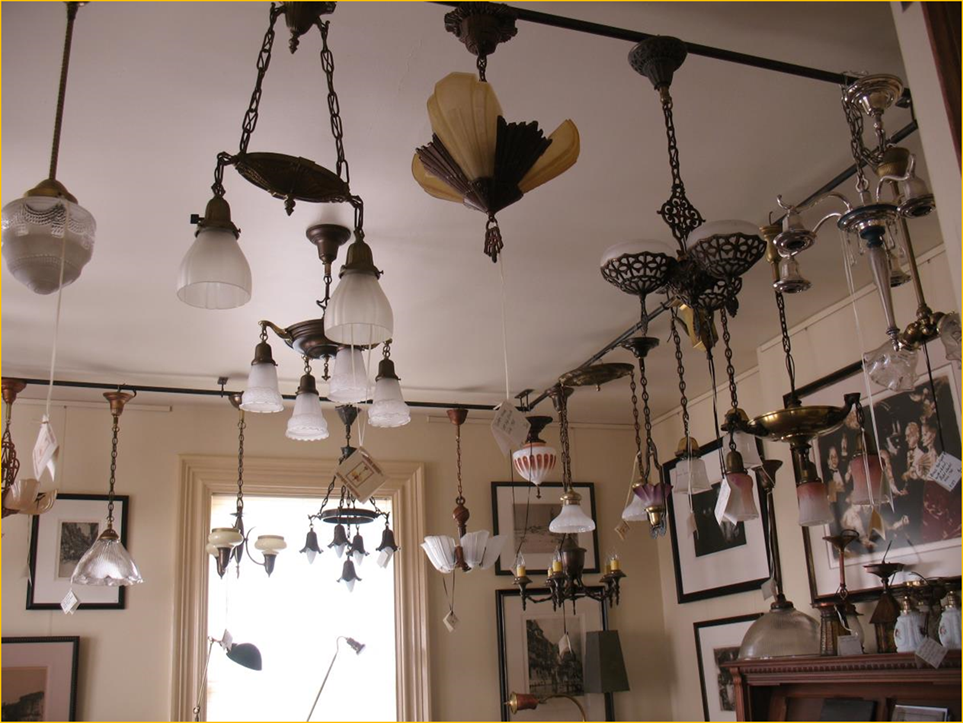 <![endif]>
Annapolis Royal Antique Lighting Showroom